We are glad to offer computer service and repairs, and in-shop repairs offer the greatest value. Whether you need service on a desktop, laptop, netbook, or all-in-one computer, we have the experience to meet your needs.
Free Consultation
We are glad to talk with you about your computer needs, and answer your questions about costs, upgrades, and more.
Don't hesitate to give us a call or stop by our shop and ask questions!
Devices
While we mainly work on computers and laptops, we are happy to help you with any device that you may have. We have been known to troubleshoot cell phones, tablets, game consoles and more. If there is something we feel is out of our ability to help, we will tell you up front rather that waste your time and money. So come in and see what we can do for you or give us a call.
Diagnosis & Estimate: $20 (or free with approved repair)
We understand that many folks want to know what they're getting into before they approve a repair. We are glad to provide a diagnosis and an estimate. If the cost of repair is too great, there is a $20 charge for the diagnosis. If you approve the repair, the diagnosis fee is waived.
Repairs
Sometimes things break down or just break completely. If you need a repair we will get it working again. Cost of a repair will include the price of the new part plus labor. We will always give you an estimate of the final cost before starting on the repair and keep in contact throughout the repair if needed so there are no surprises at the end.
Virus Removal: $40
We offer a thorough virus removal service to clean your computer from unwanted programs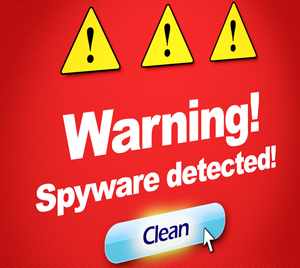 and files that can slow down or harm your system. This service includes virus removal, removal of questionable programs, updating certain software and programs, and making sure there is an antivirus program running and up to date on the system.
Tune-Up: $40
Over time computers can start to bog down. Whether it's because of too much dust or an accumulation of unwanted or temporary files, we can help! This special includes disk clean up, optimizing of browsers, updating certain programs, removal of questionable programs, and a physical cleaning of the computer itself (dust removal and screen/case cleaning).
Deluxe Bundle: $60
For a discounted price, you can have the virus removal and tune-up special in a deluxe service.
Here is a quick comparison of the services.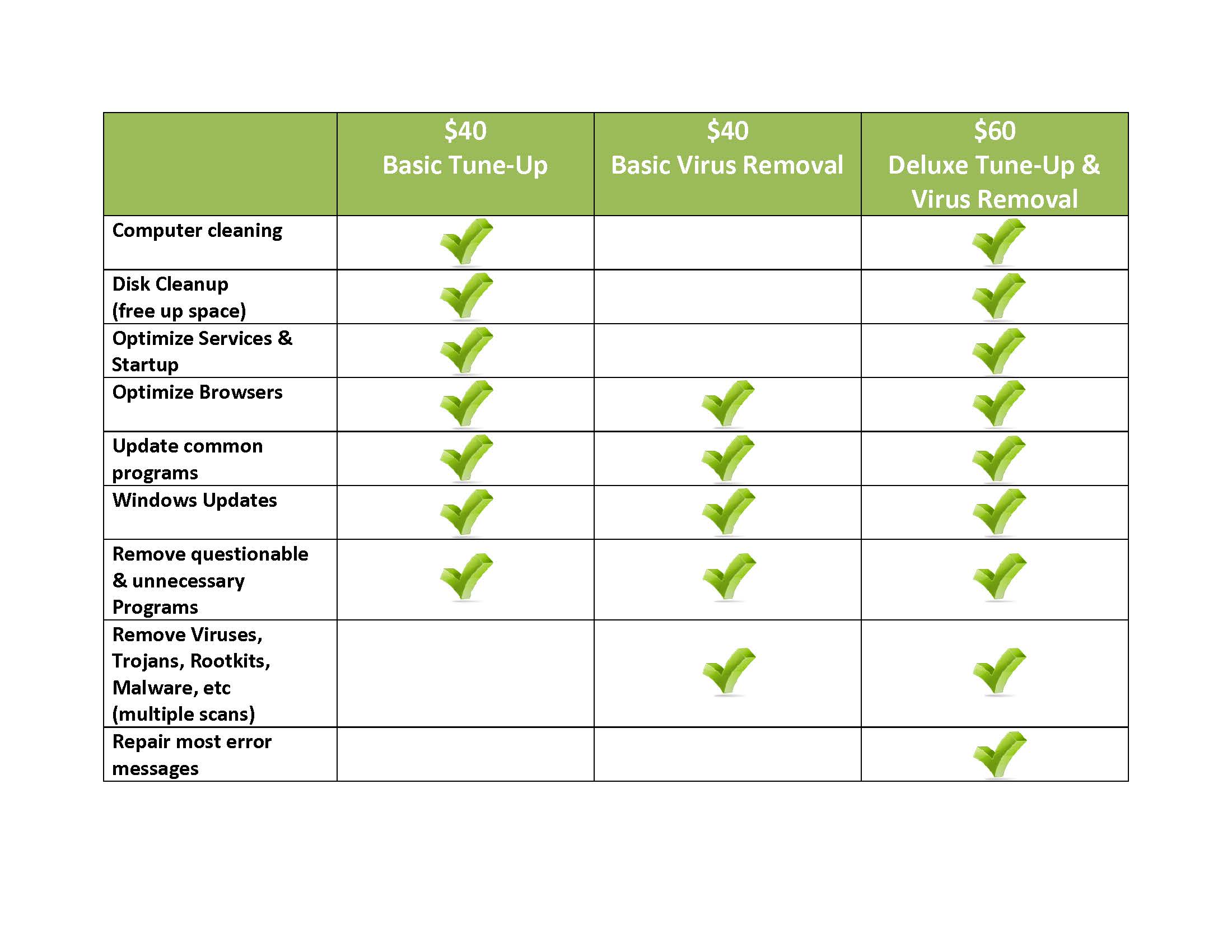 Basic Data Recovery: $20
Have an old computer that went kaput? New computer you need to transfer files to? As long as the hard drive isn't faulty, we can recover your data for just $20! Just bring us your old computer or hard drive, and a storage device to put the data onto (or we can provide you with a great deal on an external hard drive – great for backing up your new computer!)
Windows Reinstallation: $80
Occasionally our customers need to just start all over with a fresh installation of Windows. We can reinstall Windows, and while we are at it make sure your device drivers are installed and up to date, and Windows Updates are completed.
New OS Install
If you need an upgrade or are just ready to move to the next version of Windows, this is the service for you. You can get the Home Edition of either Windows 7 or 8 for $200 or the Pro Edition for $240. This price includes the licensed software and labor to install and make sure everything is up to date. If you're upgrading we will back up your files before hand and restore them afterwards as well as re-install any programs that were on before. In addition to making sure Windows is up to date, we will install the latest versions of AVG anti-virus, Java, Adobe Reader and Adobe Flash. We will also install OpenOffice on customer request, a free word processing software similar to Microsoft Word.